Full moon march through Zlatorog Village
Midnight tale in the moonlight glow
Difficulty
In winter months you can experience a full moon hike on the snowy ski slope paths of Vogel above Lake Bohinj. A ski lift will take you to the top and back, and then you continue on foot, the path lit by the gleam of the moon and flashlights. An experienced guide conjures up a fairy-tale experience in Zlatorog Village and points beyond the horizon of the Julian Alps to where Zlatorog is preparing for the coming spring.
Strolls through snowy carpets at an altitude of more than 1500 m lit only by the full moon, fill you with energy. The only thing you need are winter hiking shoes, warm clothes and walking poles (upon agreement we can provide them), while the guide and the magic of the winter night take care of everything else. The hike is also intended for small heroes.
WHEN: Dec – March
MEETING POINT AND TIME: upon agreement
DURATION: 2 hours
PHYSICAL FITNESS: 1
PRICE: from €25.00
INFO & RESERVATION: Grega, grega@hikeandbike.si, +386 31 374 660
Included services
A company of a guide
Organisation
Tea or mulled wine
From 25€ per person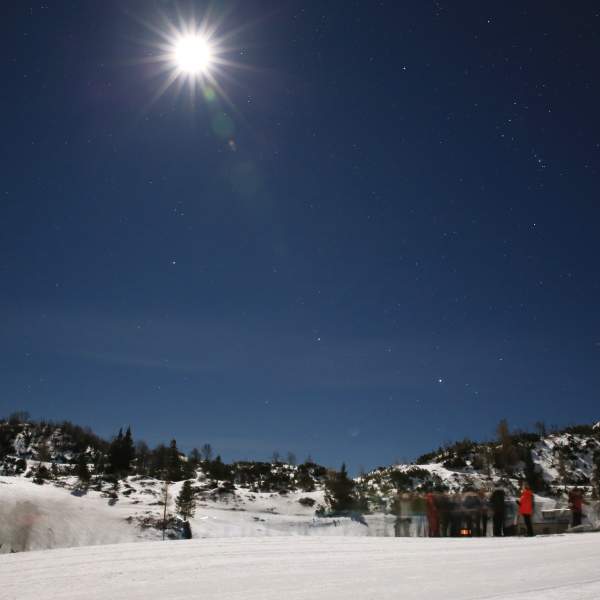 highlights
A fairy-tale experience of a winter night in the heart of Julian Alps,

exploring the snowy carpets of Vogel in the moonlight,

the full moon and the guide provide bring it to life and create an unforgettable experience.