Zlatorog Fairy Trail
Zlatorog's fairy-tale trail extends along the Zlatorog Village and is suitable for children of all ages. It includes wooden playthings, puzzles and tests of locomotor and other skills. It is intended for learning about the world and nature of the Triglav National Park through all the senses that are awoken while exploring it. No guide is needed to experience it in full – use the Nexto application. The starting point is located at the Zlatorog Village Information Centre, from there on you can follow your own path. The overall length of the circular route is approximately 2 kilometres, however, you are not limited in time; therefore the journey can last half an hour or the entire day.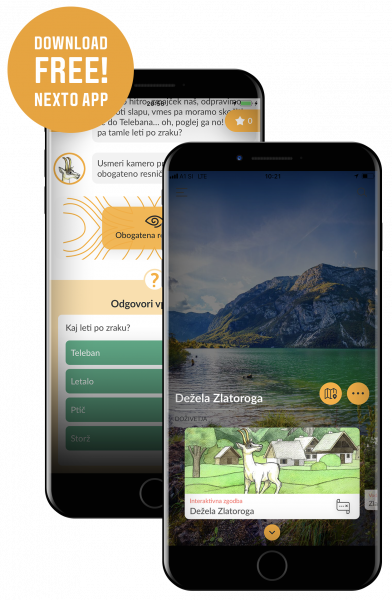 FAIRY-TALE EXPLORATION
They say that children have the most beautiful time in Zlatorog Village! Stop and look around, then upload the NEXTO application on your mobile phone via Google Play or App Store and help Zlatorog save his kingdom. The Zlatorog Fairy Trail is also special, since the steps and exercise activities lead to finding out about majestic fairy-tale creatures, which introduce us to their world and nature through games.